CINDERELA showcasing a circular economy approach to Latin American Cities during UBERLAC4 conference
Circular economy was the topic of the UBERLAC4 conference organized in Maribor, Slovenia, in the days of 18th – 20th June 2019. UBERLAC stands for a network of Urban European and Latin American and Caribbean cities launched by DG REGIO and the Inter-American Development Bank with an aim to promote sustainable development in cities and to help to meet the challenges of promoting social development, higher urban productivity and greater environmental protection through the creation of networks, the exchange of experiences, benchmarking and the preparation of action plans in Latin American cities. The initiative involves 18 cities, including 9 cites from Europe and 9 cities from Latin America.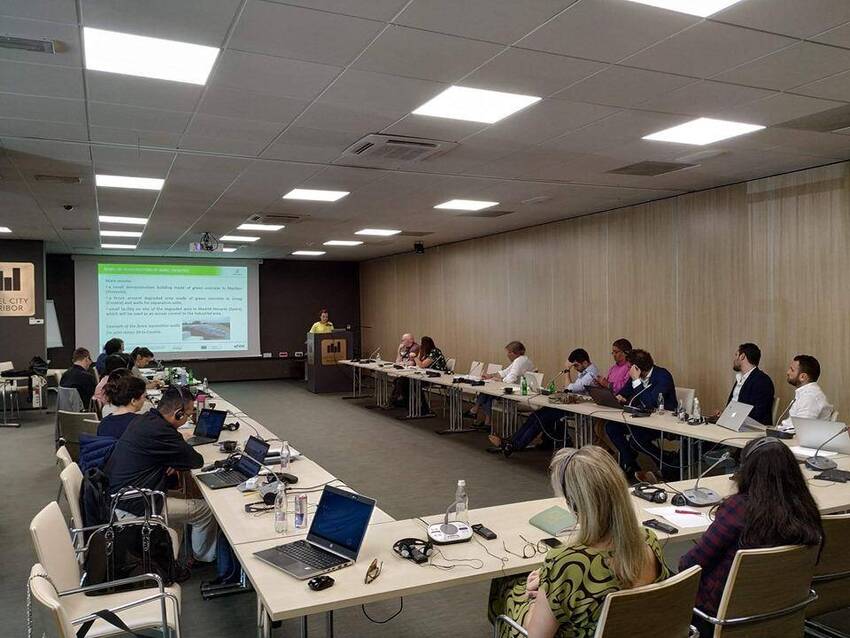 Nuša Lazar from Nigrad company- a partner of the CINDERELA consortium had an opportunity to present the project to the audience from LAC as well as European cities present at the conference.
The concept of circular economy is gaining an increasing interest from the side of the Latin American cities who struggle with inefficiency in the use of resources while lacking good solutions to improve the management of waste. Taking into account the urbanization scale in Latin America, cities demonstrate a massive potential in terms of resource recovery for different purposes , including urban construction. The UBERLAC4 conference was an unique opportunity to learn about the initiatives of such LAC cities as Campo Grande, Cuenca, Hermosillo, Montevideo to make the cities more sustainable in line with the circular economy principles. Yet, very often the awareness and knowledge on converting waste into valuable assets like secondary raw materials is missing.
CINDERELA was received with great interest from LAC participants although recovery of secondary raw materials from different waste streams available in cities for construction purposes is a novel idea to them. But with CINDERELA approach we can inspire them for action- says Nuša Lazar.
The conference was also an opportunity to get feedback on the CINDERELA approach and actions from EU stakeholders. Poor trust and acceptance concerning the use of SRM and the issue of legalization of SRM in construction were pointed out form a representative from Portugal. Also, the virgin material sector is having "a monopoly" in the field of construction has been mentioned as a potential obstacle in putting the business model of CINDERELA into market practice. There are however also successful cases and good practices in using SRM in Europe for example in the city of Vienna, where the idea was initiated by the municipality and is currently taken over successfully by a private construction company.
Monday 24 June 2019